Hey there, I forgot to post this quite a while back. I was going through my phone and wah laaa! I had these photos saved to my gallery. I know I'm a photographer and I shouldn't be using my phone to take photos, however, in real life, it was what I had on hand, and yes, I take photos with my phone ALL THE TIME! I am equipped with a 8mp camera on this bad boy, so why not?
SO this was something that I had actually seen on Pinterest and I am actually a Pinterest junkie, I will be the first to admit it!
I was in the process of moving out of State to Arizona, and one of my very best friends, Lindsey was going to be having her baby any day. I was super broke, but I had to get Linz and Jeff, and the little munchkin something to remember me by, before I left to move to Arizona, to be with my husband.
(Not like they would ever really forget me… or at least I hope not)
So on Pinterest, there was this amazing idea for a "Daddy Doody" Kit that was posted from "Living Eventfully – Party On…" blog.  It was so cute, I just had to make my own version of it, PLUS, I definitely wanted something in there for mama to be too – but I had to do it on the cheap.  I think I found ideas on "Mom-to-be Hospital Survival Kit" on Pinterest too, but I think I may have googled it and found what I was looking for, for ideas.
So I went down to the local 99¢ Only Stores,  and I put together something super simple, but still nice, and thoughtful. I think I ended up spending about $30 for everything. I went home, and started putting everything together, and then I made little signs  to put on them, and filled in with tissue.
Here is my version of the Daddy "DOODY" kit and the Mama-to-Be Hospital Survival Kit.
Everything was 99¢ from the 99¢ Only Stores:

I made a little sign on each one, that I hand made… since my printer and computer were already packed up to move.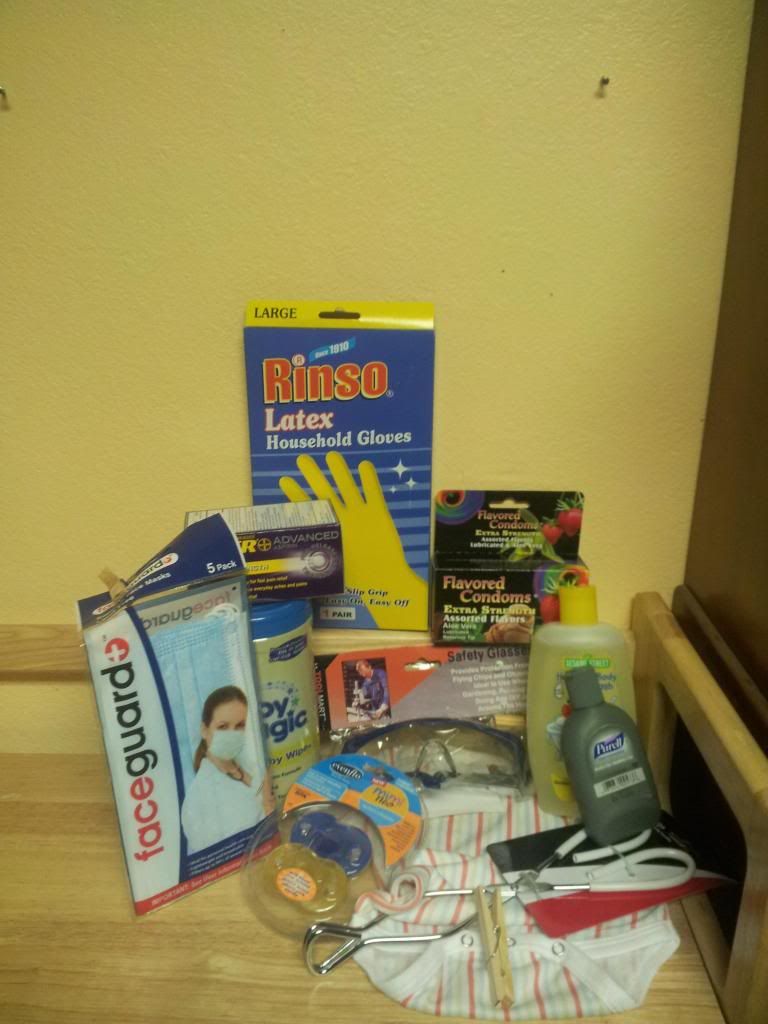 So in dad's kit, I put the following:
A pair of salad tongs – for handling a stinky diaper of course!
A face mask for masking that stinky odor
Safety Goggles, for those unexpected moments
A few clothespins to put on under the face mask to further mask the odor
Hand sanitizer, for the poopies, that may get on his hands
Baby wipes
Latex cleaning gloves
Baby Wash – for when it comes down to hosing it off rather than trying to go through ALL the baby wipes
A Onesie – for when the blowout happens, and you need to change the baby
Aspirin – for all the headaches that happen
Pacifiers
And last, but definitely not least… FLAVORED condoms… **I'm just tickled with myself on this one** Jeff thought it was a horrible joke… LOL – but he did laugh to the tune of… "I don't think that is going to happen ANYTIME soon" – and I said, well at least they are flavored… hehe
Then for Mama-to-Be, I was a lot more practical, thinking of things that she actually may need… Not that Jeff didn't need ANY of those things. Instead, for her, one of my very closest friends, I thought of "what would she forget, or wish she had right now".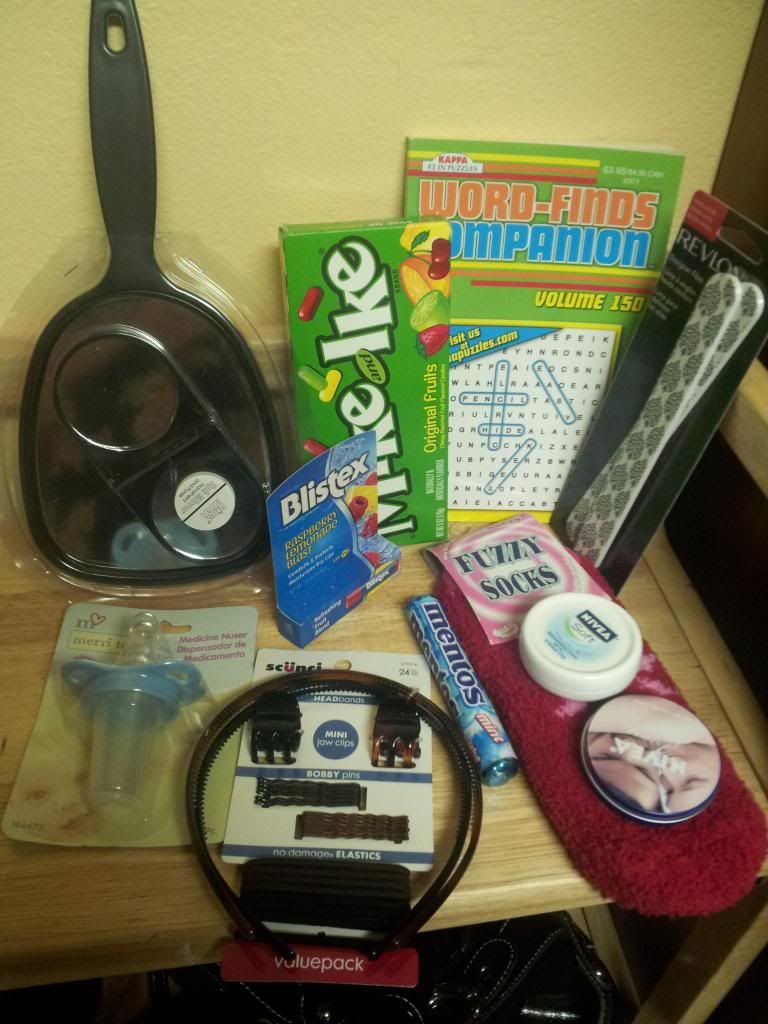 So in Linz's kit, I have the following:
Chapstick: I wanted to get her fav which was Burt's Bees, but again, I was trying to do this on the cheap
Lotion: Nivea little containers, perfect size for putting them in your purse
Hair Ties and headbands: now this is something that I think is crucial to have when at the hospital having or a baby, or really anytime right?
Non-Slip socks: Just in case you have to get up in the middle of the night to go to the bathroom… those floors are slippery
Mentos: The freshmaker!
Mike & Ikes candy: just cause it's one of her favs
Crossword Puzzles: because sometimes you get bored… maybe not once you have the baby… this may be better for someone who is sick in the hospital, rather than someone having a baby… but what the heck right??
Mirror – so once you're done with labor, you can make sure you look good before all these people come in and take pictures of you… and you are definitely not going to be walking to that bathroom anytime soon – especially with that epidural!
Nail File: you just never know
And then a random baby medicine pacifier… so she might not use this now… or ever, but hey I saw it and I got it – pretty nifty if you ask me!
Last but not least, my friend Linz with her new baby boy Miles and proud daddy Jeff. These guys are so great for each other, and Miles just completes the package. I am so overwhelmed with happiness for the 3 of them. I love them to death.
These photos, my other childhood friend Jessica Locicero took. I've known Jess since 6th grade, and she actually brought our trio together shortly after high school. She also did my wedding photography. She is pretty amazing, if you ask me!  Check her out  here: Jessica Locicero Photography  – tell her that I sent you!
And this last one, Linz sent me with Miles wearing new duds his auntie (me) bought him, the first day we found out it was a boy!! So sweet!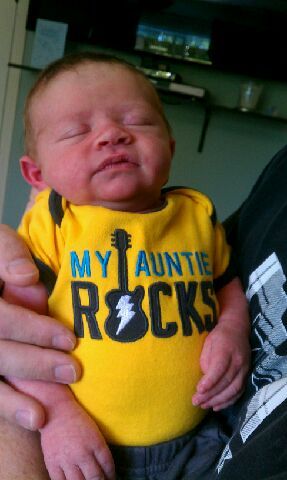 I can't wait until I can move back to California, and be a bigger part of his life!